NEW! From the makers of BattleSphere™: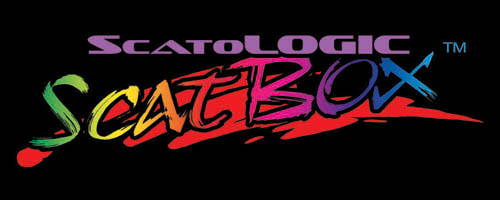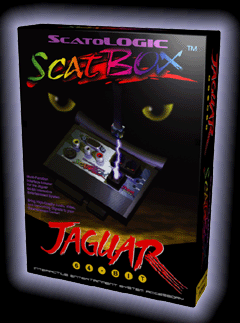 The Ultimate Jaguar Accessory!
ScatBox™ is the only Jaguar peripheral available today which makes full use of the Jaguar Expansion Port, giving it a full suite of Audio/Video standard connections and providing 100% Catbox compatible networking for BattleSphere™ (2-16 Consoles), Air Cars (2-8 Consoles), DOOM (2 Consoles), and all future Catbox compatible software.
ScatBox™ replaces peripherals which would cost much, much more if purchased individually... and replaces the discontinued BCD Catbox which sells for 3-4 times the price of a ScatBox™ !!!

Like all other ScatoLOGIC products, the ScatBox™ is sure to become a coveted collector's item!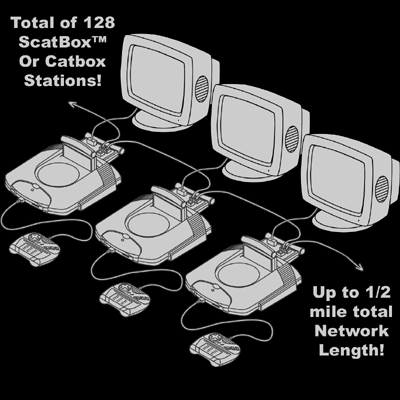 ScatBox™ was created due to the enormous number of requests made for a compatible device to replace the discontinued Catbox and allow players to play networked games. After nearly 18 months of meticulous Research and Development, ScatoLOGIC proudly presents the most advanced multi-function peripheral ever manufactured for the Jaguar!
Not only does ScatBox™ come complete with every interface you could possibly imagine, but it was designed from the start to be totally Catbox compatible, for use in networks with (or without) existing Catbox units! It also happens to be the most stylish and handsome accessory ever to grace the Jaguar, with the "Swiss Watch" engineering and quality you have come to expect from ScatoLOGIC! Nothing else comes close!

No longer do you have to suffer with cheesy looking low quality or klunky metal contraptions to interface with your Jaguars for audio/video or multi-player action! This limited edition accessory is sure to become your one of your most treasured Jaguar items!
| | |
| --- | --- |
| | |
| Eliminates bulky metal contraptions! | Goodbye homely kludges! |
The limited edition ScatBox™ will become the certerpiece of your Jaguar collection because it comes complete with all of the quality and extras you expect to receive when you buy from the real premier Jaguar Developer: ScatoLOGIC!
ScatBox™ is currently available in two models: ScatBox™, and ScatBox™ Deluxe , which has all the features of the ScatBox™, but comes in the ultra-cool transparent case! Collect them both for some serious multi-Player Action! ScatBox™ is a must-have for any serious Jaguar collector!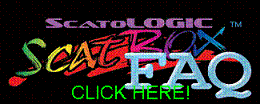 For further information and answers to all of the questions you may have, please click the on link above to view the Official ScatBox™ FAQ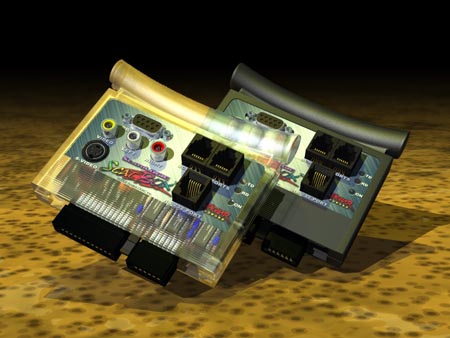 ScatBox Deluxe™ (Left) and ScatBox™ (Right) raise the bar for Jaguar products to new levels!
ScatBox™comes with all of the advanced features you could possibly need, all for much less than the cost of all the individual items combined:
SCATBOX ADVANCED FEATURES:

ScatNet™

Multi-Console Network (Requires 1 ScatBox™ or Catbox for each node)

JUGS/Jag-Link Compatible RS-232 Serial Port

15,000V protected communications ports (Human body model static discharge)

Analog RGB Output with Monophonic Audio Signal

RCA Style Line Level Stereo Audio Outputs

Composite Video Output

S-Video Output

Catbox compatible ScatNet™ networking

Serial Port Auto-Select

Serial Port Auto-Duplex

Built-In Hardware Keylock to prevent future ScatoLOGIC software from being Emulated.

Internal Network Termination with Noise Filtering

Full Color Printed Box with custom insert

Full Color Stylish Faceplate with legend

Extended Range Network (128 consoles over 1/2 mile range)

Professionally Printed Manual

Colorful LED Status Indicators with Self-Test and Duplex Indication

Internal Network Termination with Noise Filtering

Thunderboard™

Anti-Interferance shielded multi-layer circuit board with silkscreen

Non-Slip, Non-Skid, Non-Scratch rubber feet
ScatBox™ is a limited edition accessory produced in small quantity, as opposed to the large volumes produced by other accessory companies. Due to the economies of scale and high labor/assembly costs, ScatBox™ is only available in limited supplies. Order early before they sell out! Check the "Ordering" page for ordering information!